Peeling Stucco – A Sign of Hidden Water Damage
At Utmost Renovations, we constantly restore buildings that have endured the nasty effects of water damage such as peeling stucco. Recently, we restored a beautiful residential home in Hilliard, Ohio. The homeowner asked us to replace the stucco exterior. It was peeling away in multiple spots. The owner previously had the stucco spot-repaired, but the damage soon reappeared and the peeling continued.

During the inspection, one of Utmost Renovations' lead masons, Bruce Hilliard, found something the previous contractor overlooked. There was significant water within the walls that was causing the stucco to peel and also saturating the insulation and rotting away the wooden structure. The home was not only water-damaged, but also lacked expansion joints within the walls. The structural integrity of this home had been compromised and needed immediate repair – the right way.
Repairing Stucco – The Process
In order to repair the water damaged stucco the right way – assuring the damage would not recur, Utmost had to first expose all the damage by removing the exterior facade. This process involved demolishing all of the stucco and rotting wood, and even temporarily removing windows of the home in order to access all of the problem areas. Expansion joints were also installed in the walls of the home. This ensured the home would be structurally sound once repairs were finished.

After all of the water-damaged components were removed and replaced, the Utmost crew reapplied new stucco and attentively matched it to its original color. As a preventative measure, the home was then double-coated with Sherwin Williams Conflex Elastomeric paint, which will guarantee a weather-seal on the exterior. Now, not only is the interior structure like new, but the home should be safe from rain damage for years to come.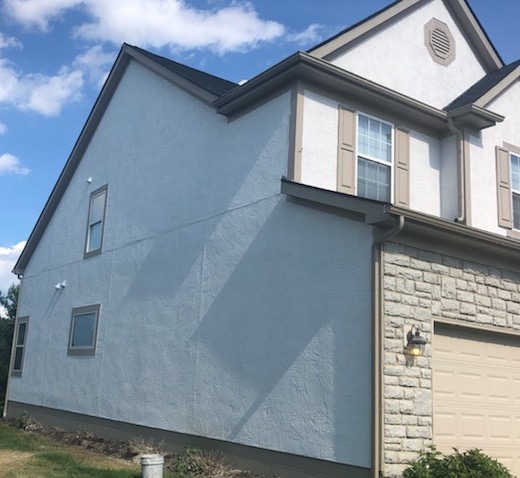 This project is a prime example of why it is important to understand the underlying causes of your home's deterioration. This underlying cause was obvious to the experienced masons at Utmost Renovations, but for the ones that came before, not so much. It is best to seek professionals that can source the reason you are experiencing issues and can prevent any future repairs from being necessary. When working with Utmost Renovations, you can be sure that you are not only receiving quality repairs, but honest and confident consultation as well.