Tall Chimney Reconstruction
Utmost Renovations recently completed a chimney reconstruction in Columbus, OH. The sky is literally the limit for Utmost. We have restored a broad variety of chimneys in our 20 years of being in business. Whether they are unusually large or completely falling apart, no chimney is irreparable for our crew. Take this project, for example. This was a chimney restoration that was trickier than most. This private residence in Columbus, Ohio had a considerably large chimney that needed repaired. This chimney required a scaffolding setup in order for the crew to safely reach the top. This differs from a typical chimney repair in which the masons can reach them from the roof.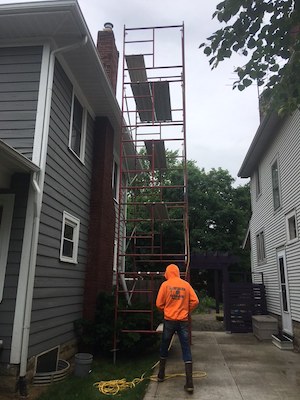 Another challenge the crew faced with this chimney was the extent of its damage. This chimney was going to require more than just a spot-point. For a usual chimney restoration, Type N mortar would be used to spot-point or tuckpoint. Type N is used for these types of repairs because of its ability to withstand extreme weather. It is better suited to be on the exterior of the chimney. Since the brick on this chimney was deteriorating so badly, it needed to be completely relaid.

Chimney Reconstruction vs. Chimney Repair
Our guys knew that a reconstruction of a chimney should be treated differently than a repair. Instead of Type N, the crew used Type S mortar. Type S mortar has a stronger bonding strength than Type N, and therefore better suited to lay new brick. Although both types of mortars are multipurpose, this is just an example of the attention to detail that goes into our projects. A small change in mortar type could keep this chimney held together for years longer.

Unforeseen challenges occur quite often in the restoration industry. Many times, there are problems hidden behind the stone and brick and are not obvious until the crew begins the demolitioning process. For this project, the crew knew as soon as they started that this chimney needed a little more "TLC" than just a tuckpointing job. Luckily, Utmost Renovations is comprised of only the most experienced and knowledgeable masons. Our men accepted the challenge and applied their wisdom to overcome it in the most rational way possible. Although this chimney repair was definitely more difficult than a typical one, the job was done successfully and beautifully.