If you have ever had to tear out and replace severely deteriorated steel lintels (or shelf angles) – doing steel lintel repair, then you know the process is very time consuming, invasive and expensive. Performing simple inexpensive routine maintenance every few years will save tens of thousands of dollars on a typical commercial building in the long run. In this article, Building Restoration specialist Mark Huffer, discusses common problems with steel lintels in masonry walls and provides an easy to follow check list for you to use in preserving the steel if you own a home or building with steel lintels in your masonry.
After a long cold and wet winter, steel lintels are vulnerable to rapid corrosion and structural failure causing damage to the masonry walls that it's designed to bare the load of and the windows or doorways it is designed to protect. This occurs due to corrosion which is really nothing more than the inherent tendency of metals to revert from a processed, metallic state to their more natural state, which we commonly call "ore". The freeze thaw cycles and ensuing water intrusion takes a heavy toll on the steel eventually causing need for steel lintel repair or replacement. This will also likely contribute to quite expensive masonry, window and door frame repairs due to deflection, movement from swelling, rust, etc. if not properly monitored and maintained.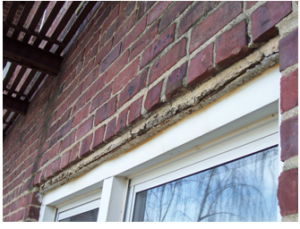 Typically, most masonry structures and facades are constructed two wythe thick. The majority of the dead load of the outer wythe is carried by itself. However, openings for windows and doors disrupt this load path. Shelf angles distribute the dead load of the wall system to a structural element such as a beam. A lintel may be used instead of a shelf angle. A loose laid lintel is not attached to the back-up structure and thus moves with the outer wythe. The lintel transfers the dead load of the wall above it to the piers on each side of the opening. It is paramount the load bearing steel, whether a shelf angle or steel lintel, is in good condition or else the problems outlined above for steel lintel repair will cost you more than you care to know.
Here is a simple checklist and remedies for you to monitor and maintain steel lintels in your building or home:
Have an expert in masonry restoration every 2-3 years inspect and probe your steel lintels or shelf angles accessing their present condition, projecting their potential life-span or usage, and recommend critical maintenance, repairs, or replacement as needed.
If the steel is slightly corroded or weakened, as long as it's solid at a minimum of a quarter inch (1/4") thickness or more after removing the deteriorated parts of the steel, it is generally safe to still use the steel avoiding expensive removal and replacement.
As in the case above, the steel can be properly cleaned, primed and painted with a product that acts as a rust inhibitor and keeps the steel dry by way of shedding water and prolonging the life-span of the steel.
Always cut out any old, failed caulk or sealant (both cohesion and adhesion failure is unacceptable) of horizontal steel or frame to masonry (including stucco and exterior insulated finish systems) joint(s), clean the steel and the open joint and make dust free, making certain all surfaces are dry, install new backer rod or bond breaker tape as needed to create a two-sided bond (avoid a three sided bond at all costs!), and install new caulk or sealant (a highly rated silicone is best as it bonds to steel better, has much more movement (expansion/contraction) capability, and has a far longer life-span (30-40 years vs. 5-10 years for most urethanes).
Clean out any existing weep tubes, replace old clogged or failed ones or install new ones if none present above the steel lintels every two feet apart with wicks inside so water properly weeps out of lintels and wall cavities. In my vast experience, it's best to use weep tubes without screens so debris from inside the wall wythe/cavity does not get trapped in the screens blocking up the weep tube causing water to back up and corrode the lintel, in essence, defeating the purpose of the weep tubes.
Heaven forbid, if the lintels need replaced, do so immediately – procrastination will likely cause more headaches, hassles, and lots more money in damages to other adjacent building materials and structures.
Where can you find the experts on masonry restoration and steel lintel? Check out the local BBB and seek out masonry or masonry restoration contractors that are A+ Accredited. Then cross reference A rated companies on Angie's List, check ratings on Google+, professionals on LinkedIn (where you should find lots of recommendations and endorsements). It might also help to learn who is an active member of professional organizations in the building trades such as BOMA (Building Owners and Managers Association), IFMA (International Facility Management Association), and/or IREM (Institute of Real Estate Management), and others.
Feel free to call Utmost Renovations for any assistance with this type of maintenance and repairs. We will be glad to help you with any project of this nature. Mark Huffer is the founder and president of Utmost Renovations–a premier masonry restoration and building renovation contractor and consultant. He is very well known and respected in the building restoration industry in Columbus and throughout Central Ohio with over twenty years of knowledge and expertise and a strong track record.