CIRCLEVILLE— Everts Hill, the former Everts School Building at 520 S. Court St., is halfway through its facelift and is undergoing historical preservation changes by Utmost Renovations and its owner, Circleville native Mark Huffer.
Huffer said they began by cleaning the building with water and a low pressure power washer and have started the process of replacing damaged bricks in the exterior of the building.
"We have to take out a bunch of bad brick and replace it with new brick to match," he said. "We're also salvaging as much brick as we can as we take out the rotted and bad steel lintels above the windows you see."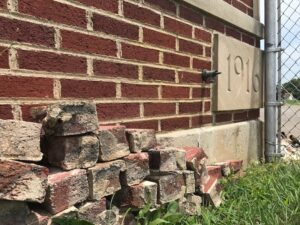 Huffer said currently, all the missing lintels and stone above the windows will be replaced. A lintel provides support across the top of the windows.
"We're replacing six steel lintels, but we're cleaning, priming and painting the others," he said. "When you relay the lintel, you have to seal it so water doesn't get in there and do it properly."
In addition to those changes around the windows, Huffer said replacing the old mortar that is failing is another priority.
"We're doing a lot of spot pointing, replacing the old mortar with new mortar to match in style, texture, color, and the proper sand aggregate mix," he said.
"This is a very tedious process and we figured it would take us two to three months to do this process," he said. "If this was all private and no tax credits, no State of Ohio Preservation Organization of Columbus involved, it may have been quicker, but all this takes time and it's part of the process."
Huffer was a 1987 graduate of Circleville High School and attended Everts during his middle school days. He said he is proud to be able to work on the building.
"It's a fun project and it brings back a lot of memories. It gives me a lot of pride and makes me happy that I can help Circleville out and preserve this building," he said. "I know the economy has been tough in the last few years. I really like the fact there's some redevelopment going on."
Everts Hill will feature 49 units of senior housing in the former middle school. There will be a total of 16 two-bedroom and 33 one-bedroom apartments.
The primary source of funding for the Everts Hill project is tax credit equity from the Low Income Housing Tax Credit (LIHTC) program. The Ohio Housing Finance Agency allocated approximately $910,740 in annual low income housing tax credits for the development. The Ohio Capital Corporation for Housing is investing just over $8.9 million in equity in return for the low income housing tax credits, and over $2 million in return for Federal Historic Rehabilitation Tax Credits.
Because of those tax credits and the historic nature of the building, Huffer said things move a little slower and more deliberate.
"There's tax credits involved and you have to do everything by the book according to the preservation briefs," he said. "We were selected because we do this all the time in Central Ohio. I'm with the company that did the Pickaway County Courthouse about 10 years ago, all the exterior work that had to be touched up."
email scollins@circlevilleherald.com follow on twitter @Collins_Herald