Basement Wall Repair
Daniel R from Columbus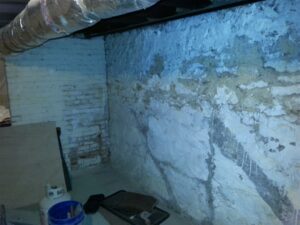 The walls in my basement were in badly need of repair.  The old coat of masonry was coming off and leaving huge gaps in the walls.  My house is over a hundred years old and I wanted someone who was experienced in older homes and knew what they were doing.  Most of the walls are made of stone and the interior ones are brick.
Based on a neighbors referral and research on Angie's List, I gave Mark a call.  He was professional and straight forward on pricing on how much work was needed.
His team was very courteous and professional.  They took great care to work around all my junk in the basement.  The only thing I wish I knew before hand was how much dust would get through the home.  However, once I told them, they quickly put tarp around the basement door and covered up all my stuff in the basement to prevent further dust from spreading around.
They were able to complete all three rooms in the basement in about in 5 days and put everything back where it was.  There was some miscommunication on the cost of tuck pointing the brick wall however Mark agreed to the work at no extra cost.  In the end, they did quality work and the walls look great!  I would definitely  hire them again and refer them to others.
Description of Work
Parge coat and tuck point basement walls